General Lessons
As we prepare to get back to our lessons next week, I've been prayerfully considering what to do and what to avoid this year. These are some things I've realized:
less is more. I don't have to teach a lot to teach a lot.
it depends a lot on my preparation as a teacher. I am not confident when I just open a book and try to teach. I must internalize what I am teaching.
My kids need things in small bites, and our schedule reflects that.
I don't need lots of stuff (like teaching aids and such). It clutters and actually distracts us from learning.
I must be sold out. I can't be half-hearted in educating my kids.
I need to plan things. I'm not good with a vague idea of how the year will go. If it's not written down, I probably will not do it.
I have to be careful not to overplan (see #1)
I am seeing what I can keep, what I can do differently and what I can simply let go of. That process really charges me up for the next year. I feel things are fresh again and I'm ready to take on another year.
Well I sort of hate to do this, because as soon as I post it here, it probably won't get done as written. ha! I am looking forward to this year more than I have in a while. I have renewed vision and I have studied hard to prepare myself. Also I have accumulated many resources so I have enrichment activities at my fingertips. (I am NOT going to get into a lecturing rut this year.)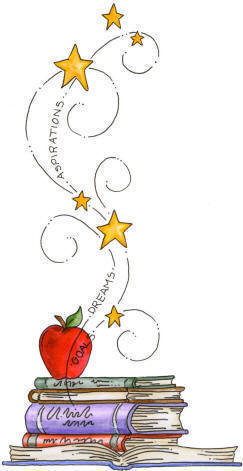 Our over-arching principle is the Christian Principle of Self-Government. All we do this year will focus on being more self-governed in our spiritual lives, in our lessons, in our chores, in our personal lives, in our speech and in our service to others. More than anything else, I want us to increase our self-government this year. If this time next year we are more self-governed, I count the year a raging success.
As for our actual lessons, I have taken a decidedly low-key approach. I am not going to overplan and overschedule. I am planning less material so we can actually savor the material, and work on doing an excellent job as we increase our capacity for Christian self-government. I am tired of rushing from thing to thing. We will do less to do more. What I mean is we will get more in-depth with the principles and not just stick to the surface with facts. Here is our schedule:
MWF:Bible, literature, science (M and W), math, Princess G will do this reading program
TT: Bible, HisStory/geography, art, math (reinforcement)
daily: creative writing, reading aloud, family altar, Spanish
This is very manageable for our family. I try to do Bible and academics in AM and enrichment in PM (after lunch). Science works well for us in the afternoon so we have more time for experiments and walks. Art and writing are also good in the afternoon when we have time to enjoy them. Spanish will move to the evenings so we can do it as a family.
Here are my resources:
Bible: JBC–love this curriculum, but it is an investment of time, because you have to do the work yourself. There is a support group too.
HisStory: my own plans with the help of Lisa's Freedom and Simplicity in HisStory materials (although I do love Mrs. Smith's HisStory books for kids too!)
Science: Dr. Worthington Hooker's materials
Literature: my own plans, lots of good literature, main study will be Bach (I think!)
Geography: various stuff from HomeschoolEstore and other sources
Creative writing: this book
Reading aloud: many books, along with some help from this book
Art: various sources, including this excellent book. Also we will make many books by hand, along with ATC's and other various paper arts. Also I like to use art cards, so we will work them in somehow.
Read this post about how I actually plan my lessons with the help of Mr. Rose's book.
One book I highly recommend is Managers of Their Homes. I read it often for help with ordering our days.
Please leave a note if you'd like me to list the resources I use to enrich my lessons. There are so many great books out there and they are so much fun!
Those of you who know me well know how dear Mr. Rose's book is to me. It is invaluable in my BPA quest. I thought I'd share a way of planning lessons using his book. It's not the only way, but one way it can be done, even for new families who want to create their own BPA lessons but don't know where to begin. This is after you have gone through the section on p. 118, have a working knowledge of BPA and a personal philosophy of education written down (mine is in the clear pocket on the front of my teacher's notebook).
(Re)read the section on "Education for the American Christian Home" (beginning on p. 85).
Starting on p. 119,  you can see the subjects broken down into goals and objectives. Here is a list of page numbers you can write in under each subject:
History (Elementary): objectives p.204
History (Junior High): objectives p. 204
Geography: goals–p. 259, overview p. 260
Literature: see charts pp. 343-351
Arithmetic: goals p. 241, rudiments p. 237, biblical origin and purpose p. 236, 234
Algebra: objectives p. 445, vocabulary of algebra p. 427
Science (A&P): rudiments p. 467, goals p. 468, overview p. 469, principles p. 457
Economics: goals, overview p. 415, rudiments p. 402
Of course, you need to read the section for each subject, but this will give you a quick reference from the lists on p. 119-123.
As an example, take geography. I am planning for a 4th grader and a 1st grader. Here's how I plan these lessons.
Prayer. I have to have the Holy Spirit to help me plan what my kids need to know this year.
Make a grid with the months on the side and the subjects across the top, so I can see what I am studying in each subject to create cohesive plans. 
See the geography topic on p. 120 for a quick glance at the subject.
Read the section on geography, written by Katherine Dang (259-273).
Note the goals on p. 259. (If I have 4 R'ed this, then I refer to my own goals.)
Note the overview on p. 260 (If I have 4 R'ed this, then I refer to my own overview.)
I make note of what I am studying in His Story and try to work geography alongside the subject. If it will not work there, then I will look to literature.
Using my overview and goals, I chart the months out. From there I am able to plan weekly lessons, using the biblical principles and leading ideas I deduce from 4-Ring and from The Encyclopedia of Bible Truths for School Subjects. I also add living books, mapwork, reference books and more to enliven the lessons.
I put the year's master sheet into my teacher's notebook so I can see my whole year on one page and how all the subjects are connected.
I love planning my own lessons this way because I can meet the objectives using the overviews and still create individualized lessons for my family. And Also I have a plan until I have 4-R'ed that subject and found my own objectives and so on. For more help on utilizing Mr. Rose's book to the fullest, read my posts under the category Rose's Guide.
Because we work with the seeds of principles, our lessons can look very different from yours and still we can both teach the same rudiments. With the overviews in Mr. Rose's book I have a general direction to head in, but I can take my own path to get to the destination. I love that!
Things are hopping around here. We are painting, laying wood floors and making various repairs here at Casa Hawthorne. Please pray that I will recover from the soreness and general fatigue quickly, and that we will get things back in order ASAP so the kids will have their home back. So in the midst of that we are still trying to have fun and get something done.
The plan is to get back in the groove next week. I'm still working on the Benjamin West unit and will post more on that soon. I thought I'd talk a moment about what week looks like, in a general way. this is not always the order we do things, but it will give you an idea of what we cover in a week.
Monday
Bible
Math: intro to lesson and assessment,
English: give spelling list, read McGuffey story, diagram sentences from the story, Daily Grams page
Literature
Tuesday
Bible
English: Daily Grams, vocabulary from the story, penmanship
Math: define terms, apply method
History/Geography
Botany
Wednesday
Bible
Literature
English: Daily Gram, spelling test, continue vocab. if needed, penmanship
Art: lesson on an element
Math: review lesson, activity
Thursday
Bible
English: write a paragraph related to the story
math: performance
History/Geog
Botany
Friday
Bible
English: retest if needed, finish paragraph, penmanship
Math: test/review
Literature
Art: project
Many home educating families don't follow a strict schedule or even a routine. That doesn't work well for us. (God is a God of order–see the days of creation, the times and seasons and his plan for church government, for example.) When I don't plan our day, we seem to waste a lot of time doing things that are unproductive. We like to keep to a schedule as a tool to help us get done all the stuff we need (and want) to do. So, the way we approach our lessons may look a bit like a traditional school, but our approach to learning is not.
Basically we have Bible, math and English every day. This may change as she gets older but to me these are important enough to cover daily. Science is twice weekly and history, geog. and literature are integrated as much as possible.
Someone asked me if I keep the subjects separate or if I integrate them. The answer is yes to both. I celebrate each subject's individuality (See how common God's Principle of Individuality is!) and demonstrate their connections as they naturally occur. This works well for us, and we are enjoying our lessons more and more. Feel free to share your school schedule (or whatever you call it).
Well I must get back to painting and planning. I cannot wait to share about Benjamin West and Dr. Hooker and…vegetarianism!
This was an unusual week because of Princess G's birthday and because we had to take her to the doctor. She has eczema from head to toe at this time in her young life. We try our best to keep on top of it but this time it really got away from us. She had infection from her hips to her little piggies. It was the worst it has been, and it's been pretty bad. Ouch! So we had to get a round of oral steroids and antibiotics. Needless to say, she is on the mend, feeling great and looking much better. I hate to take this route, but sometimes I really have no choice.
So because we are able to educate at home, we were able to continue our lessons and that was not difficult, except that she had to stand up at the table to work a lot because the back of her upper thighs were so raw. Here's what we did this week:
Bible
Principle: Christian Principle of Self-Government (1 Samuel 8)
We discussed the Children of Israel rejecting God and choosing a man to lead tham. We reasoned that this is the same as when we choose our own way instead of choosing Christian self-governemtn. We choose our own government rather than God's. We made a chart that a mom at our bibleprinciples group shared with us. We will definitely use more of these charts. They really make the lesson come alive for us and help us to apply what we are studying.
English
spelling lists from McGuffey
Grammar: Harvey's and Daily Grams
Penmanship: Spencerian book 1 (new last week)
Math
Principle: Division reveals God's nature (3 in 1)
Continuing in Ray's with this
Literature
finishing Alice in Wonderland. She asked to read it so we just did so. We didn't do much in the way of notebooking, we just enjoyed the silly happenings and discussed "character issues" as we saw them.
Botany (Dr. Hooker's book)
Principle: nature teaches us about God
This is her favorite subject. She begs to do it every day. We studied about leaves. They have four main purposes: add moisture to the air, shade, beauty and to keep the plant alive (respiration and photosynthesis). We also read the chapter on the leaves in autumn. I really enjoy his manner of writing and his appreciation for God's creativity.
Art
Principle: God's Principle of Individuality
We learned that a line is a moving point in space. We discussed how lines are defined: by position, thickness, shape and relation to other lines. She reasoned what we use lines for–communication, separation, inclusion, judgement–and how lines demonstrate the principle above. We did some simple projects that she really enjoyed and we looked for lines in art and around the house. (For art we are using this book and this book.)
The weather is so nice that we have been spending time out of doors, getting our "sunshine vitamins". Happy spring!! (insert Snoopy dance here)
Click here to download a blank lesson plan worksheet to print to your heart's content.
I am surprised at the number of poems that have peppered my posts lately. Must be a "season" heehee. Well of course it was a short week in our celebration of Thanksgiving. Princess G asked to read Psalm 100 before dinner. I was very proud of her initiative and she read aloud beautifully. I wish she'd speak up more but she did a great job. While we are on the subject, I thought I'd share a poem she wrote last year (I was surprised at the result–she was only 6). It may inspire you to do something similar for Christmas.
Giving Thanks
Today I will go
Unto the house of the Lord,
Remembering what God has done:
Keeping me safe,
Everlasting love for me,
Years and years of life.
So her latest poem has a little different flavor:
God
God has great powers
So He gave us flowers.
Girls are so sweet
When they meet.
I love God;
He's sure not odd.
This poem made us laugh. The last line was originally "He's not a pod" but I couldn't let that stay, so she changed it a little. She worked hard on that little poem, on her bed with a note pad and pencil. This was the big English work we did last week.
We read more of the Pilgrim story, and we read through "An Old-Fashioned Thanksgiving," by Louisa May Alcott. We laughed at the "bear" and the funny things that happened as they were cooking dinner. I think the story will become a tradition around here.
We also started our holiday notebooks and gathered materials for that. We had a good time listening to carols online and chatting and printing. I let her choose what she wanted in her notebook and we created pages for each topic. We printed pages for people to write what they were thankful for (she wanted it to read "Whatcha thankful for?") and took around for the family to sign. We also printed some pages for recipes, journaling, traditions and the Advent study we are doing.
We reviewed some things we had discussed in JBC up to this point. That's always good to do. We will break from that this month and do our Advent Bible study.
So I guess last week was mainly reading and writing and having a good time. She also worked on some math, including a multiplication table with half of the numbers missing, for her to fill in. She got them all right! YEA!!! We had a good time and I'm very happy with how last week came out. We spent time together around God's word and some good writing–even if we aren't quite up to Ms. Alcott's caliber…just yet.
As I said a couple of posts back, I'm back to creating my own plans, which I really enjoy. Here's what went on at our house in the way of lessons.
Bible
Principle: Law of Love
Leading idea: theme from JBC in Ex. 20:1-2
We read the account of giving the Ten Commandments. That was interesting, and we painted "word pictures" to really set the tone. We talked about how the Children of Israel must have felt, knowing God was physically coming to the mountain in three days. How would that make us feel? How are things different now that we have the Holy Spirit and Jesus living in our hearts? How does that affect our "law"? (law moved from the outward ten commandments to the inward Christian self-government). She did a great job reasoning these things and we talked quite informally over the week about it. Then we read the commandments and talked about what each of them meant. We will continue next week.
History
Principle: America's Heritage of Christian Character
Leading idea: Pilgrims had a strong work ethic
We read from "Of Plimoth Plantation," reading some and paraphrasing some. We talked about the leading idea and gave examples from the story. I love reading the account from William Bradford. I recommend using primary sources as much a possible. Don't take a writer's word that something happened the way they say. Find out for yourself. So the more we read from it each year the more familiar we will become. I highlight different things each year. We rehearse the basic account and then I focus on one particular trait of the Pilgrims. This year it is diligence and hard work. Nothing for the notebook, just reading and discussing. Notebook will be next week. Geography has been with history this week, looking at Holland, England and Cape Cod.
Science
Principle: God's creation communicates His Truth and love to man.
Leading idea: God made flowers for us to enjoy
I cannot believe how much I love our science text, The Child's Book of Nature, by Dr. Worthington Hooker. If you are struggling with this subject and you have kids in the elementary ages, you should at least get a copy and see it for yourself. He's a Christian scientist who wrote these books in the late 1800′s and they are gentle, godly and terribly educational. I will write more about this in another post. The chapter we read this week was the first chapter on why we love flowers. We created a botany cover page and we also made a violet with tissue paper for our notebooks. They had fun with the paper and glue. She reasoned several things: why nature can teach us about God, how flowers teach us and how she would feel about a plant that taught her things.
Mathematics
Principle: God uses the concept of measurement to express His plans for man. (Jer. 33:22, Gen 14:16)
Leading idea: measurement is an expression of the mathematics language
We are still working on her multiplication tables to 12. She's doing great. Also we are talking about how math is a language and that we must express it precisely or we will communicate the wrong idea (answer).
Economics
Principle: God is the source of all good work
Leading idea: work is good and we need to do it
Now my 7dd is interested in money and how the economy works, so each Wednesday we take time in math to discuss economic principles. This week was work. If you have Mr. Rose's Guide, I took it straight from there. We discussed the importance or work, defined it, and discussed "producing". We are all producers, even if we don't work outside the home. We also read the poem "Work" by Angela Morgan(we printed the first and last stanzas and she drew pictures of tools around it). I include a paragraph about John Smith and Jamestown because it ties in so beautifully (from this web page).
When Captain John Smith was made the leader of the colonialists at
Jamestown, Virginia, he discouraged the get rich quick seekers of gold by
announcing flatly "He who will not work shall not eat". This rule made Jamestown
the first permanent English settlement in the new world, but work does more than
lead to success; it gives an outlet from sorrow, restrains wild desires, ripens
and refines character, enables human beings to cooperate with God, and when well
done, brings to life it's consummate satisfaction. Every man is a prince of
possibilities, but by work alone can he become into his kingship.
Work!Thank God for the might of it,
The ardor, the urge, the delight of it.
Work that springs from the heart's desire,
Setting the brain and the soul on fire,
Oh what is so good as the heat of it,
And what is so glad as the beat of it!
And what is so kind as the stern command,
Challenging brain and heart and hand.
Work!Thank God for the pride of it,
For the beautiful conquering tide of it,
Sweeping the life in it's furious flood,
Thrilling the arteries, cleansing the blood,
Mastering stupor and dull despair,
Moving the dreamer to do and dare,
Oh, what is so good as the urge of it,
And what is so glad as the surge of it,
And what is so strong as the summons deep,
Rousing the torpid soul from sleep!
Work!Thank God for the pace of it,
For the terrible, keen, swift race of it;
Fiery steeds in full control,
Nostrils a-quiver to greet the goal.
Work, the power that drives behind,
Guiding the purposes, taming the mind,
Holding the runaway wishes back,
Reining the will to one steady track.
Speeding the energies faster, faster,
Triumphing over disaster.
Oh, what is so good as the pain of it,
And what is so great as the gain of it?
And what is so kind as the cruel goad,
Forcing us on through the rugged road?
Work!Thank God for the swing of it,
For the clamoring, hammering ring of it,
Passion and labor daily hurled,
On the mighty anvils of the world.
Oh, what is so fierce as the flame of it?
And what is so huge as the aim of it?
Thundering on through dearth and doubt,
Calling the plan of the maker out.
Work, the Titan; work, the friend,
Shaping the earth to a glorious end,
Draining the swamps and blasting the hills,
Doing whatever the spirit wills-
Rending a continent apart,
To answer the dream of the master heart.
Thank God for a world where none may shirk.
Thank God for the splendor of work!
Princess G enjoyed the poem and drawing the tools. She reasoned that the tool is dictated by the job. And that the right tool makes the work easier. That's a good thing to know!
Literature
Principle: America's Heritage of Christian Character
Leading idea: God prepared people in America to help the settlers
We read the D'Aulaire's Pocahontas. Their illustrations are great and the story is nice. (They don't tell the kids that she dies in England.) We were impressed by her story and how she conducted herself in England, being a girl raised in America in the woods and not in a palace. In England they were all very impressed by her. We were too. Princess G reasoned the leading idea and we discussed the priniple from that.
English was thrown in among the other lessons, with definitions, Daily Grams, and review of the basic parts of speech using text we were reading.
If you are still reading this, I'm impressed. I can't believe how I've gone on and on and on… God is good and we are learning so much. I cannot wait to tell you about Dr. Hooker's book…and the importance of original sources…and more Thanksgiving fun stuff…so much to blog, so little time!
Last week was fun but not terribly eventful. We worked on our books in art class (aren't my girls cute?). I love making books so this was really fun. (see the principle in the lesson).
In our other subjects it went like this:
Bible
Principle: Moses was a servant leader.
continued our Moses as leader discussion. We talked about the diagrams from JBC showing the difference betweeen leaders and rulers. This was funny to me because I planned the lessonbefore I read the text in JBC about this subject. When I read what they said and it was the same as what I said I got very excited. I was on the right track! (see last week's post on "simon says"). So we talked about the difference between "leaders" and "servant leaders". That was interesting. Miiko's blog is also a terrific resource for JBC help week to week. She's really inspiring!
Math
Principle: Multiplication came out of God.
We have a Menu Math from Scholastic and she really likes those exercises. We are also continuing our lessons on multipication. We discussed again the principle that multiplication came out of God, not just from Him. He is mathematical in mature and He is a God of multiplication (see one of the many verses describing Him as a multiplier). We are working through a multiplication table. We also did a fun outdoor activity. I wrote lots of nubers out on the patio with chalk. I called out a multiplication equation and she had to work the answer in her head and then jump on the answer. We play this game for different math facts and she really likes the physical activity of it.
We also started economics each Wednesday. Just gentle learning about rudiments of economics. The first week we defined "economics", "Christian economics" and "American Christian economics." Last week we talked about needs vs. wants. (Matt. 6:31-34) She wrote: My needs come from God. They are food, clothes and shelter. He also provides my wants through prayer and hard work. She reasoned this from the scripture passage and some passages in Proverbs about work.
I am loosely following the section on economics in Mr. Rose's A Guide to American Christian Education. She has her own business (her newsletter) and she is very interested in economics so we added a small component each week to answer her questions.
History: We combined it with Bible last week.
Geography
Principle: Geography is the stage for His Story.
We talked about lakes. There are three types: mountain lakes, lakes in plains and salt lakes (from Guyot's Physical Geography). She reasoned that they get water three ways (my own part of the lesson): rain, springs and rivers. She drew examples of these for her notebook. We looked at examples of lakes in the Bible (like the lakes Jesus sailed and calmed and Peter walked on.
English
Principle: God gave us whole language from the beginning.
She is defining five subheadings of English: orthography, etymology, prosody, syntax and composition. We will try to get to at least three of these each week, putting prosody more on the back burner for now (more passive activities) and focusing more on orthography,etymology and composition. She is adding these to her little definitions flap book.
Literature
Principle: God's Principle of Individuality
The Brothers Grimm and their fairy tales are on tap. Their lives are interesting (but who isn't, really?) and I found some fun things related to them and their tales. I'll list them in another post so you can visit them if you are interested.
Along with preparing lessons I am also listening to Katherine Dang's seminar on "The First Things to Learn and Teach" about the BPA and how to apply it to home education. It has been amazing. I'm also slowly working through Ruth Smith's Rudiments Course. That has also been wonderful. My brain is so full! I still have so much work to do to renew my mind to the Christian idea of man and government. But I have come a long way and can't imagine looking at life any other way.
Well last week was a challenge. But how is that different from any other week? It takes such a commitment to make sure you have school consistently because there are so many things trying to get your attention. They all seem urgent and they all need to be done NOW!!! So we still got our lesons in so I thought I'd share.
History
Principle: God uses individuals to further His Story.
Leading idea: Moses was in the right place at the right time.
We are talking about Moses and his link on the Chain of Christianity. We talked about Moses being in the right place at the right time and made a page with a "basket" in the Nile that is really a flap you can lift to see little Moses inside. Then we talked about Moses in Pharoah's house and how he was prepared and preserved for God's plan. We created a T-chart to compare and contrast Pharoah's House and Slavery.
Pharoah: education, leader, favored
Slavery: toil, servant, torture
We compared and contrasted these two environments and she reasoned how these things brought us to the leading idea (right place, right time) which she then reasoned to the principle (stated above). This took a little while but she got it herself, with a little mild encouragement. We are still working on the reasoning part but I think she's doing a great job!
Bible
We discussed Abraham from JBC lesson 6 and the fact that his faith made him righteous. That was an interesting conversation. She drew a picture of Abraham with lots of stars and a scripture reference and title. We also discussed why we are called the Seed of Abraham.
Geography
Principle: It is the Stage for His Story
We discussed continents, peninsulas and islands and she reasoned that this is where the people live so this is the stage for His Story. We drew examples and she used the Map Standard to color them.
Mathematics
Principle: Measurement shows me that God is orderly and unchanging. (Mal. 3:6)
Leading idea: Measurement is always the same.
We looked up examples of measurement in the Bible (Noah's ark, the angel in Revelation) and we discussed how that is like God. We talked about how it can build our faith because since math is unchanging and math came out of God, He is also unchanging. (You can also use Rom. 1:20 here.) We can use what we can see to help us understand a God that we cannot see. Then we discussed inches, feet and yards and did some math problems with them. We are also working on our times tables in Ray's Mathematics lesson 44.
Literature
Principle: God's Principle of Individuality
leading idea: writing demonstrates the author's individuality
We are reading some of Emerson's work. We checked "Father, We Thank You" from the library. It has beautiful illustrations and a wonderful poem of Emerson's about God's creation. We discussed how we can see what the author is thinking and feeling through his writing. We can also tell about his background and worldview (my word, not hers!) by the conent of his work.
I don't have time to go into every subject here but these are the main subjects we try to always get to. We try to get to art, science and music, but at his time they are mainly informal lessons. (I am taching an online book arts class and we use that, along with another yahoo group art class.) She has had three years of piano and loves to sit and learn songs on her own. I am working on getting some science materials from Ms. Dang and have won the book (The Child's Book of Nature) on eBay. When I get the book I will make more formal lessons for botany, per her suggestion.
This week we are back to our lessons. (I am trying to get out of the habit of calling it "school".) Princess G held two thumbs up and said, "All right! School is the best!" WOW! That surprised me. I guess we are doing better than I even thought!
This week we will cover (she is 7.5 years old):
Bible: the Tower of Babel–unified rebellion
English: Writing & Spelling Road to Reading and Thinking, McGuffey reader (I'm pondering Raquel's post on English), Daily Grams
History: this week we are studying along with Bible the ancient culture of Hammurabi and the Tower of Babel
Geography: Earthquakes as part of Earth's crust
Math: continue in Ray's Arithmetic–multiplication
Literature: Continuing the study of the solar system
Art: beginning our study of books as art
Princess S is 4 and will be along with us from time to time and she will work on her phonics as well.
At the end of the week I'll discuss in more detail about what principles we discussed in all these subjects and how I approached and reinforced it.